Chatting in the Park – Thomas Gainsborough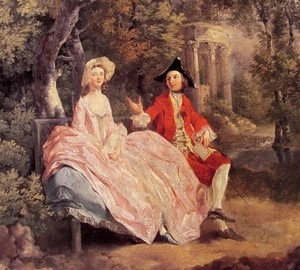 Description of the picture:
Chatting in the park – Thomas Gainsborough. Around 1760. Oil on canvas. 73×67
British painter Thomas Gainsborough (1727-1788) is known as a portrait painter and landscape painter. He often made custom portraits of representatives of the nobility against the background of nature. His characters are talking slowly under the canopy of sprawling trees. "Conversation in the park"Recalls the gallant paintings of the Frenchman Antoine Watteau, who also loved to depict the solitary walks of lovers in shady parks. The characters of the master are not theatrical, they seem to be actors playing a sugary play against the backdrop of a luxuriously written stage decoration with a white-stone arbor-rotunda in the depths of the composition.
Landscape was Gainsborough's favorite genre. Still not practicing, like his contemporaries, work from life, the painter, for the harmonious assembly of objects on the plane, made models of the upcoming canvas. He used various natural materials: sand, coal, moss."