Pont du Gard. Roman Aqueduct Across the Gar River – Hubert Robert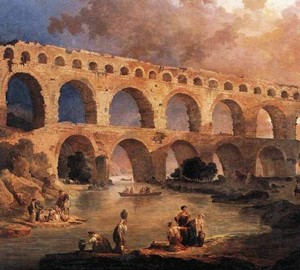 Description of the picture:
Pont du Gard. Roman aqueduct over the Gar River – Hubert Robert. 1787. Oil on canvas. 242×242 Hubert Robert (1733-1808), a recognized master of the landscape, created works in a romantic style, in which the ruins of the once majestic buildings were present. The painter spent eleven years in Italy, studying and sketching ancient buildings. Then he transferred them to his canvases surrounded by an idealized landscape. Some ruins in the paintings are real, others are the fruit of his secured imagination. Robert, beautifully combining natural views and building constructions in his own compositions, in the 1760s was engaged in the planning of royal gardens and interior design of residences. Landscape with a view of the ancient aqueduct Pont du gard intended for the decoration of the personal premises of the king in the castle of Fontainebleau. Against the backdrop of the great creation of the Romans, the painter depicted people engaged in daily affairs on the banks of the river. They usually do not notice the old aqueduct and do not think about the long history of this large bridge."