The painting "The Ship of Fools", Jerome Bosch – description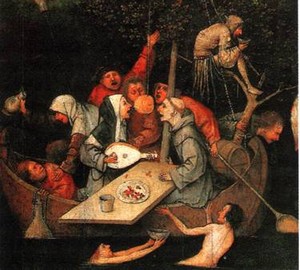 Description of the picture:
The ship of fools is Jerome Bosch. Around 1510-1515. Wood, oil. 57.8×32.5
In the picture of the famous Flemish painter Jerome Bosch (circa 1450-1516) a small boat with several people on board is shown, it can be seen that they represent different sectors of society. Reigning in the midst of their rampant fun threatens the durability of the boat and can plunge "fools" into the water. All figures and objects have a certain symbolic meaning and personify human vices: intemperance, debauchery, rowdy, gluttony, vanity. Cherry (on a platter) and a lute symbolize debauchery, a vessel planted on a spear, like an owl, looking calmly at what comes from the branches of the May Tree, is a symbol of Satan.
Maybe in the base of the picture "The ship of fools" lies the plot of the eponymous work of Sebastian Brant (1494). According to the opinion of Devagelare, the master's researcher, this picture is "a satire on the moral licentiousness of the clergy, allowing the ship of the Church to sail without a helm and sails, neglecting her duty to save souls – swimmers near the boat.""