Landscape with a Farm, Meindert Hobbem, 1662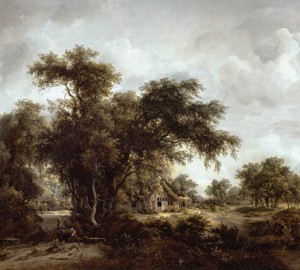 Description of the picture:
Landscape with a farm – Meindert Hobbem. 1662. Oil on canvas. 82×103 Meyndert Hobbema (1638-1709), the Dutch master of landscape painting, took nature as the medium of human existence. His landscapes are always inhabited, in them certainly there are different buildings, houses, mills, roads, well-groomed by people, or people themselves, busy with their daily affairs. The quiet pacified life of man in the lap of nature is such a standard of the Dutch artist. Hobbem did not write the wild, striking force of the elements and romantic drama not mastered and not conquered by people nature."