"Forge of the Volcano", Diego Velazquez – description of the painting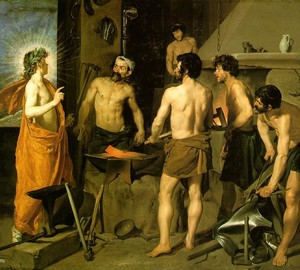 Description of the picture:
Forge of the Volcano – Diego Velazquez. 1629-1630. Canvas, oil. Two hundred and twenty three x two hundred and ninety cm
The painting exploits the fashionable tendency to write canvases – the mythology of Old Rome, but the plot for it was chosen as non-standard and very rarely used in painting. The motive for revenge of the Volcano on the wrong wife Venus was more often used, and the moment is shown when Apollo descends into the forge of the Volcano and brings him unpleasant news about the unfaithfulness of his wife.
Why is the Vulcan Forge specifically used in this canvas on a mythological theme? Since the ancient Roman god Vulcan was the lord of fire and the patron of blacksmithing. Specifically, Vulcan forged armor for all the gods of the Roman pantheon, he also made the lightning of Jupiter. Married Vulcan was on the goddess Venus, the patroness of love.
The picture captures 6 half-naked guys – five in the front view, and one in the background. The main characters are Vulcan himself, who does not stand out next to his apprentices, and Apollo in a chic golden toga, with a laurel wreath on his head surrounded by radiance. Although the Volcano is also a god, he is depicted as an ordinary hard worker, out of all the clothes on him, like on his workers, only an ordinary loincloth made of coarse fabric of dark color.
Apollo is diligently highlighted in color and light. His skin is the most snow-white of all the surrounding guys, in addition, it seems to be additionally illuminated from behind and from above, and the head of God is surrounded by colorful gaping rays. The sunny god in the twilight and grayish forge of the Volcano looks inappropriate and alien – he does not belong here.
The overall color palette of the picture is muted, in olive, brownish and gray tones. Only certain color spots stand out – the generous golden silk fabric on Apollo and the catchy red tone of the hot metal on the anvil of the Volcano.
As usual, with Velazquez, all the characters look alive, real people."