"Adoration of the Magi", Diego Velazquez – description of the painting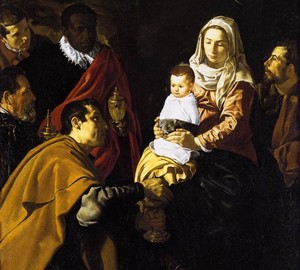 Description of the picture:
Adoration of the Magi – Diego Velazquez. 1619. Oil on canvas. Two hundred four x 126.5 cm
The plot of this picture has been used in painting more than once, for sure, there is not a single artist of the time who would not use the motives from the Bible in his own work. "Adoration of the Magi" is one of the most favorite biblical stories, which was interpreted by an abundance of different methods. Velazquez is no exception. His painting is an author's vision of a religious motive of worship, transferred by the artist to the realities of Spain in the 17th century.
As for the plot, everything is exactly the same as in the Bible: baby Christ, Virgin Mary, Joseph and the three magicians who came to bow to the future Savior. But the image differs sharply from the canonical look: all the characters are dressed not in the style of the 1st century of our era, which is appropriate for Judea since then, but in the characteristic Spain of the 17th century.
This picture refers to a premature period of the artist. It still has very deep black shadows on it, many figures are almost buried in the darkness, but the stunningly matched harmonic colors shine brighter. Even in the work of the still young artist of the Seville period, skill is already felt. It was especially pronounced in the image of draperies and folds on the fabric. In fact, you can feel the smoothness and silkiness of the satin, the density of the woolen fabric on the clothes of St. Joseph and the severity of the draperies thrown over the kneeling magician.
The clothes of the characters and their placement sets a certain rhythm of the composition of the picture. The diagonal placement of 3 main figures – the sorcerer on her knees and the seated Virgin Mary with the baby Christ on her knees – visually expands the place, limited by dense darkness in the background. Only the landscape seen in the distance in dark colors with low thunderclouds, most likely depicting the Calvary hill, adds little airiness to this actively filled and saturated composition.
Curious here is the image of the baby Christ. Most of the painters did the work in the traditional style, leaving the baby newborn. Old masters often portrayed the Savior as a small copy of an adult, but Velazquez took a different path. In his interpretation, Christ is a real small child, tightly swaddled according to the habits of those times. But the expression of his childish face is very harsh, without a hint of childish gaiety or abstraction – this child is not from this world.
The painting has a rich and rich color, excellent image quality and is the real pride of the Prado Museum, which stores most of the paintings of the great artist."