Saint Louis, King of France, and Page, El Greco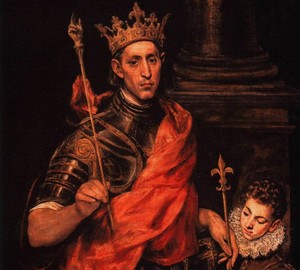 Description of the picture:
Saint Louis, ruler of France, and page – El Greco. 1592-1595. Canvas, oil. 120×96.5
In the second half of the 16th century Domenico Teotokopuli (1541-1614), nicknamed El Greco, he moved to Italy, from where in one thousand 500 70 6 he went to Spain, where he lived until his death. In the canvases of the master, subjectivity in the worldview prevails over reality. Usually, the heroes of his paintings are placed in surreal mysterious worlds.
El Greco often portrayed saints. In the form of a page for this work, the painter captured his own offspring Jorge Manuel. The figure of Louis IX, canonized by the Church Church in 1297, is made in the appropriate manner for him with elongated proportions, as if directed upward towards God, emphasizing the height of the spirit of the person depicted. The sad deepest gaze of beautiful black eyes on a thin face, distinguished by its own pallor in the overall color of the work, speaks of the deepest inner life of Louis."