"Adoration of the Shepherds", El Greco – description of the painting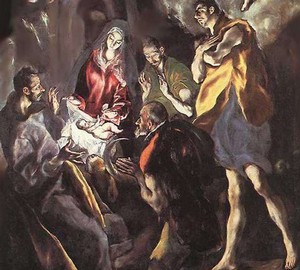 Description of the picture:
Adoration of the Shepherds – El Greco. 1612-1613. Canvas, oil. Three hundred nineteen x 100 eighty cm.
The painting "Adoration of the Magi" was painted especially for the altar of the church in Toledo. El Greco chose a recognizable religious plot – the shepherds came to the cave to worship the newborn Christ. Many painters before and after resorted to this topic, but only the great Spaniard came out with a very mysterious, magical embodiment of the gospel text.
Elongated, disproportionate figures, a difficult assembly of the composition are complemented by a magical play of light. The painter has always experimented with color and light, but the work specifically presented, one of the last in the artist's biography, indicates the highest mastery of plot development through professionally placed accents with light spots.
Magic light pulls out two groups from the dark place of the cave: in the lower part there are people – a baby with the Virgin Mary and the shepherds, and in the upper half we see cherubs and angels, which testify to the highest divine purpose of the newborn. El Greco emphasizes the same idea with color, making the image of Christ the most catchy bright spot.
Looking at Jesus, the viewer suddenly realizes that this magical light, which is enough to illuminate the cave and all the characters, comes from the manger. There is no hesitation that El Greco was a deeply religious person! You can see how sorrowful the faces of Christ flying over, angels — they know what fate is destined for him: it is painful to die in the name of the Salvation of the world's population.
There is information that one of the students of El Greco claimed that the master also depicted himself on the canvas, in the face of a shepherd in a reddish vestment, kneeling.
The deepest shadows laying on the walls, catchy light, dark background – all this erases the differences between the earthly and heavenly worlds, turning the biblical scene into a vision, a sacred dream."