"Village Concert", Adrian van Ostade – description of the painting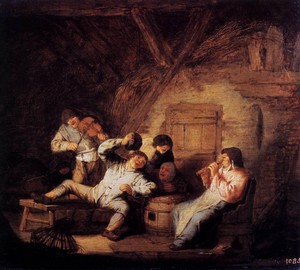 Description of the picture:
Village Concert – Adrian van Ostade. Canvas, oil. 20 seven x 30
Adrian van Ostade is one of the most recognizable representatives of the family of Dutch painters, a master of the peasant household genre, draftsman and etcher, a student of Frans Hals.
The picture feels the effect of Adrian Brower – the creator of aggressive popular scenes. Despite the polysyllabic Rembrandt tonal spectrum, sustained in a golden ocher politra, and the spectacular transmission of black and white transitions, the work fully embodies the grotesque, comic-parody nature of Ostada's "peasant scenes" and is one of his early compositions. Along with that, in the forms of farmers playing music with their emphasized expression of gestures and expressive facial expressions, the painter reveals the universal principle, activity and spontaneity, the fullness of actual forces, the ability to extract from her life ordinary, simple joys."