Portrait of Maria Tudor, Anthony More (Moro) van Daschorst, 1554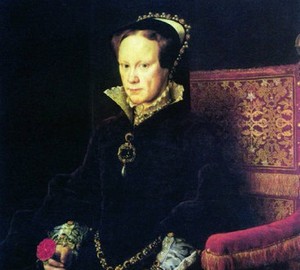 Description of the picture:
Portrait of Maria Tudor – Antonis More (Moro) van Daschorst. 1554. Oil on canvas. 109×84 Anthony Mor van Daschorst (between one thousand 500 seventeen and 1519-1576 or 1577) is a 16th-century Dutch portrait painter who worked in the courts of Spain, Italy and Great Britain. In the history of Euro art, the master entered as the creator of a new type of ceremonial aristocratic portrait, which became widespread. "Portrait of Maria Tudor" – the most famous work of the master, considered a masterpiece of portraiture. The Queen of Great Britain (ascended the throne in 1553) is depicted sitting in an armchair upholstered in chic reddish velvet. Her pose is static, which gives the picture ceremonial solemnity. The painter objectively captured the appearance of a no longer young model, trying to reveal the temper of the ruler. In her right hand, Maria Tudor holds a reddish rose – the heraldic symbol of her own family, in her left – gloves crowned with precious stones. The greedy spectrum, a clear study of jewelry, the tense pose of the queen convey the incredible firmness, strength and authority of her disposition."