"Evening after the rain", Levitan – description of the painting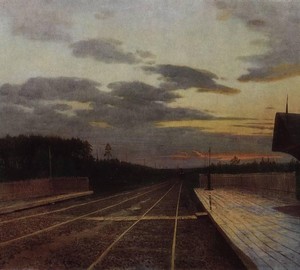 Description of the picture:
The evening after the rain – Isaac Ilyich Levitan. 1879. Oil on canvas.
The city landscape, whose cordiality and poetry is in no way interfered with by the urbanized component, was painted in one thousand eight hundred and seventy-nine years. Isaac Levitan was then only nineteen years old.
The evening plot was very close to the beginning painter – he still remembered very well the time when he and his brother simply had no where to live. If it was not possible to hide from the guard and stay overnight at the school, the young men had no choice but to go out and wander around the town all night, waiting for the start of classes.
Specifically, in such obligatory walks, Levitan noticed a lot of things and noted to himself. So in this picture we see an empty platform, the cobblestones of which shine from the recent rain and the flashes of the setting sun. Peace and quiet. Only a slightly audible iron clatter of train wheels accompanies this measured urban landscape.
The sky is breathtakingly delicate and precise – smooth overflows from blue and snow-white to yellow and almost reddish show not only the time of year, day, but also the momentary natural state. The rain is about to end, as evidenced by the wet shiny paths with an apron, and heavy rain clouds floating low above the ground.
How many of these same stations, aprons and rains in everyone's life, but only in Levitan did this plot receive such poetic and even philosophical implementation. Here it is the power of art in its most tactile manifestation!"