"Autumn. The road in the village ", Isaac Ilyich Levitan – description of the painting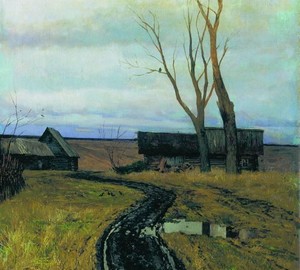 Description of the picture:
Autumn. The road in the village is Isaac Ilyich Levitan. 1877. Oil on canvas. Sixty 6 x 40 four cm
The painting of the 17-year-old Isaac Ilyich Levitan is devoted to the ozary and the usual village road. The most mundane landscape. But this is the peculiarity of a delightful Russian painter – to create beauty in the ordinary, to sing it, to ennoble, to open up plots erased from everyday life and to attract the attention of the viewer to them.
A black road, blurred from the rain, visually divides the picture in half, taking the zigzag ribbon away to the horizon. On both sides of the narrow road are black village huts with ground roofs. People are not visible – slushy weather is not conducive to walking.
Autumn is in the yard and this is emphasized in each element. We see completely naked trees, yellow rumpled, wet grass, low heavy clouds. But the most noticeable detail is the puddle, which almost spilled onto a softened road. It is not uncommon for painters to use the water surface as a mirror, but usually we are talking about rivers and lakes – Levitan is quite a puddle. It so clearly displays the sky, naked tree trunks, it is so delicate and delicate that it is impossible to admire this uneven dirty puddle.
It is difficult to say which mood is dominant in this work, most likely it depends on the viewer himself. Some will feel painful loneliness, some light sadness caused by autumn wilting, others will embark on nostalgic memoirs, while others will only admire the sharp eye and the narrow spiritual organization of the creator of the canvas.
Naturally, the subsequent canvases of Levitan will be more full of different elements, differ in compositional finds, a fascinating gamut, but even in this very early work, one can see the great potential, talent of Isaac, young and indescribably poor at that time. The excellent Russian painter here is just starting his own way … and he begins it with an autumn village road."