Siege of Pskov by the Polish king Stefan Batory, Bryullov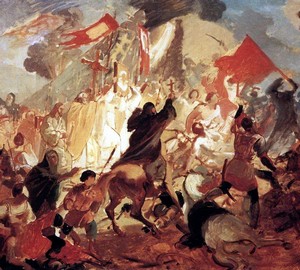 Description of the picture:
The siege of Pskov by the Polish lord Stefan Batory in one thousand 500 eighty-one years – Karl Pavlovich Bryullov. One thousand eight hundred and thirty-nine – 1843
Work on the painting "The Siege of Pskov" on the memoirs of contemporaries was given to Bryullov very hard. Widely recognized throughout Europe thanks to its famous "Pompeii", the painter worked fruitfully in the genre of portraiture and genre scenes, but the public longed to see the monumental multi-figured canvas again. Well, Bryullov himself wished to regain fame, and he chose the battle as the plot for the newest picture when the troops of the Polish king Stephen and the angrily defending inhabitants of Pskov and its suburbs converged.
The canvas, in fact, is distinguished by a complex compositional construction. It is clear that Bryullov did a gigantic job at the preparation step – he made a number of full-scale sketches near Pskov, examined all the preserved artifacts of antiquity in the town itself, re-read historical research and evidence.
They say that the idea of ​​the canvas was proposed to the artist by the ruler himself, who also made an approximate composition for the future picture, but Bryullov criticized it there. The ruler realized the criticism, but harbored an insult.
The canvas was not destined to repeat the glories of "The Last Day of Pompeii", the picture remained incomplete – the large-scale plan was difficult to realize under the scrutiny of the public, expecting another triumph, and Briullov himself sadly called "Pskov's annoyance"."