Two sisters, Theodore Chasserio, 1843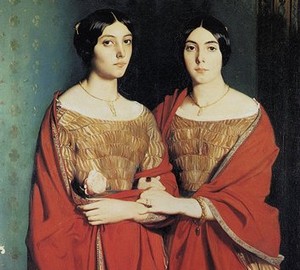 Description of the picture:
Two sisters – Theodore Chasserio. 1843. Oil on canvas. 180×135 Theodore Chasserio (1819-1856), a painter and graphic artist, from twelve years old who studied art at Jean Auguste Dominique Ingres, painted this double portrait of his beloved sisters Adele and Alina, when he was 20 four years old. The sisters carefully look at the viewer, their similarity is visible. The age difference is twelve years: one is 33, and the other 20 is one year. The fading rose on the elder's belt hints at her age, but the sisters seem very close to each other in the liking and kind of thoughts. The age difference is not so visible, and very similar dresses only increase the similarity."