"Summer", Giuseppe Arcimboldo – description of the painting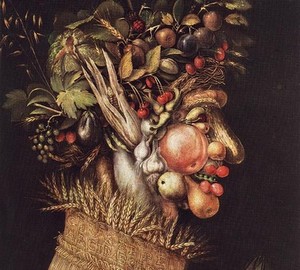 Description of the picture:
Summer – Giuseppe Arcimboldo. 1573. Oil on canvas. 76×63.5
The work of Giuseppe Arcimboldo, the representative of mannerism, is very special. He created portraits of his contemporaries, but because no one had done this before him. Faces of people in an unusual way were composed, like a mosaic, of different fruits, vegetables, flowers, bird feathers (and from time to time and whole birds), fish, shells and other seafood, as well as other objects and their parts. All of them, for one reason or another, were associated by the artist with a certain created image. Each time he managed to give his own "creation" an inimitable appearance and even slightly reveal his temper.
"Summer" – an example of such a metamorphic picture from the cycle "Seasons", symbolizing the development of human life. "Summer" is youth. Colorful paints triumph on the canvas, the face is "laid out" of seasonal fruits and vegetables."