Painting "St. Sergius of Radonezh", Nicholas Roerich – description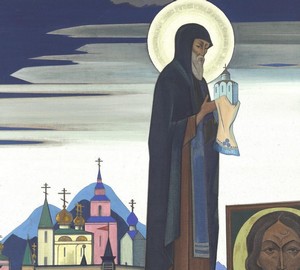 Description of the picture:
St. Sergius of Radonezh – Nicholas Roerich. Tempera on canvas. 153.3 x 107.2 cm.
Nikolay Konstantinovich Roerich is a very non-standard person. He is known as a philosopher, publicist, mystic, historian, traveler and, of course, as a scientist. Such versatility and diverse views on the world order could not but affect his works.
Nicholas Roerich and his wife loved to travel the world in search of "places of power." At the beginning of the 20th century, the Roerichs began a large-scale trip to Russian lands. A little later they made an expedition to Central Asia, where various Eastern spiritual practices influenced them. So began a special period in the work of the master.
The painting "St. Sergius of Radonezh" was painted in one thousand nine hundred and thirty-two years. The canvas is unique in a stylistic nuance. It is unrealistic to attribute to a certain genre. Here medieval ruble motifs, eastern mysticism and modernism slip.
The relevant features of the artist's creations are the tempera technique and the experimental approach to color. This is also visible in Sergius.
At the first glance, the usual figure of the saint is made in a completely non-canonical color politra. The viewer's attention is focused on blue and pink colors. Nikolai Konstantinovich believed that the mood can be conveyed in the image only with a bold combination of colors. The master, keen on syncretic spiritual teachings, also simply combined various artistic styles.
On the image, Rev. Sergius of Radonezh holds a patronizing Orthodox church. Russian people, namely Roerich himself, considered the saint to be the intercessor of his native land, which, according to legend, he defended more than once. Over time, Roerich himself stated that St. Sergius coast is a painting that was transferred to the Russian Museum in Prague. The museum suffered significant damage due to an attack by the Nazi troops, but Roerich's painting itself miraculously survived."