"Hemmerfest. Northern Lights ", Konstantin Korovin – description of the painting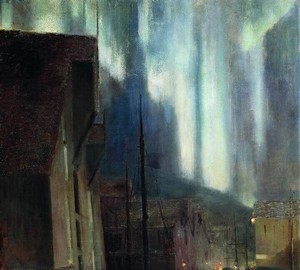 Description of the picture:
Hemmerfest. Northern Lights – Konstantin Alekseevich Korovin. 1894-1895. Canvas, oil. 175.6 x 106.7 cm
This picture was created during Korovin's trip to the northern countries, coupled with another professional artist Valentin Serov. The trip was subsidized by Savva Mamontov and covered both the Russian North and the Scandinavian countries. The canvas was created in the Norwegian town of Hammerfest, considered one of the closest to the North Pole.
The picture captured a provincial city landscape against the backdrop of an unusual miracle of nature – flashes of the northern lights. The famous "Aurora Borealis" was supposed to amaze the imagination of the artist, whose work was greatly influenced by the French impressionists.
When viewed from afar, the picture seems to be made in restrained muted colors, but upon careful examination it turns out that all of it is almost iridescent with an abundance of small multi-colored strokes. By this method, the painter only successfully transmitted the memory from the northern sea town in the black season. The embankment with sailing boats and houses on the shore is lit only by the poor yellowish lights of lighting devices. But everything around is almost flooded with the cool ghostly light of the northern lights. It turns the black sky into a real scene of the wonderful performance that Nature itself creates.
Even in texture, the aurora borealis differs from the rest of the canvas, made either with small and fractional, or large iridescent color strokes. The glow of the sky is distinguished by green, blue and lemon, it seems very deep and at the same time airy. The image is made with long and small vertical strokes, which further enhances the play of light and color.
Aurora borealis acts as a typical background of the entire image, attracting the eye, but not "pulling" it completely on itself. The painting shows a bay with houses located on the left and directly opposite the viewer. On the frontal plane there is a fishing boat with folded sails and the highest narrow mast. It is written in large, effective strokes, in which many different colors of color are enclosed.
Behind the boat along the entire structure to the left is a huge number of other boats belonging to local fishermen, and in the background, against the background of houses melting in a haze, there are sharp dark vertical stripes. This is a mast of a huge number of boats, standing on a joke and awaiting access to the sea.
This painting is a true triumph of impressionistic traditions and the embodiment of a momentary feeling that has left the artist's chic northern lights."