Crucifixion, Juan Flandes – description of the painting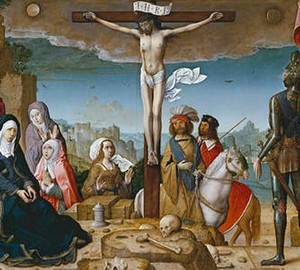 Description of the picture:
Crucifixion – Juan Flandes. Oil on wood. 1509-1518. 100 20 three x 100 sixty nine cm
The presented work is part of an eleven-part cycle devoted to the main moments of the life of Christ, or rather his walk in agony. The altar panels from Juan Flandes were ordered by Bishop Diego de Desa and they were intended for the main central altar of the Cathedral in Palencia. Apart from plots such as "The Way to Calvary", "Burial", "Essay Nomo", "Annunciation", etc., obviously, the crucifix was allotted the central place.
Getting to work, the painter relied on the iconographic type of Reau, which assumed a stately spectacle of horizontal orientation. The central part of the composition is occupied by Christ, who is nailed to the cross with three nails (this is a tribute to tradition, dating back to the 13th century). Jesus is not suffering here, not creating, and not tolerating – his body is deathly and limp, and the blood flowing from his wounds gives a hint to the viewer that everything is already over.
A dark cluster thickened over the crucified ones, which practically flooded the sky. This is another symbol of an already committed atrocity. Christ died … for the sins of others.
Around Christ there are few people – on the right we see the Virgin, Mary Magdalene, the disciples. Noteworthy are those who only at the moment have directed their faces to Christ with a consistency of devotion and wonder. This is a fighter with a spear, a centurion on a stallion, another rider.
The plot of the picture is static, motionless. As if the whole action froze in an instant, the characters do not interact at all together. More vibrant and dramatic colors "crucifix" will acquire in the works of future masters."