"Allegory of Vision", Jan Brueghel the Elder – description of the painting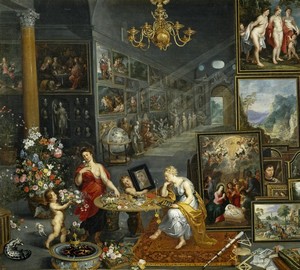 Description of the picture:
Allegory of Vision – Jan Brueghel the Elder (Velvet). Canvas, oil. 65×109
The Flemish painter and engraver Jan Brueghel belongs to the dynasty of painters, the ancestor of which was his father Peter Bruegel the Elder. The narrow specialization was alien to the master, because he worked in almost all genres: he created still lifes, landscapes, battle scenes, mythological, allegorical and religious subjects, and also depicted art galleries and animals.
On the canvas "Allegory of Vision" captured beautiful virgins and two cupid babies surrounded by different objects designed to amuse and amuse eyesight. One of Cupids holds a mirror in front of a young lady, the other presents a bouquet to her friend. On the table in front of her are precious stones, astrolabes and a telescope at her feet, and a globe in the center of the room. The chandelier in the room is crowned with a two-headed falcon – the coat of arms of the Habsburg dynasty, an emblem of power over Flanders. In the middle of the paintings surrounding the heroes, on the right side of the composition, you can create a canvas that depicts Jesus healing a blind man.
Note that the central figures in the picture were performed by Peter Paul Rubens – an outstanding representative of the Flemish school of painting."