Oaks in the Fontainebleau Forest, Theodore Russo, 1855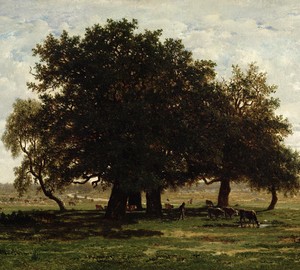 Description of the picture:
Oaks in the Fontainebleau Forest – Theodore Russo. 1855. Oil on canvas. 64×100 Theodore Russo (1812-1867) – French painter of the Barbizon school, whose work marked the golden age of the French landscape. Her adherents, artists painted rural nature, dear to their hearts, accurately conveying the uniqueness of each species, the uniqueness of each subject. The Barbizonians made a realistic landscape, choosing for a more faithful transmission of nature and its conditions a sketch work in the open air, fixing concrete observations of nature, with the following ending in the workshop. Russo was the founder of the school. He settled in Barbizon in the late 1840s after a matchmaking that did not succeed, then other painters joined him. Barbizon housed in the forest of Fontainebleau, different corners of which often appeared on the canvases of the master. On canvas "Oaks in the Fontainebleau Forest"The painter lovingly paints old, massive trees, spread out extensively in open space, and admires the quiet life of ordinary people who are busy with their daily activities under their shadow. The life of the villagers in unity with nature, which feeds and gives spiritual peace, is full of harmony."