The Triumph of Titus and Vespasian, Giulio Romano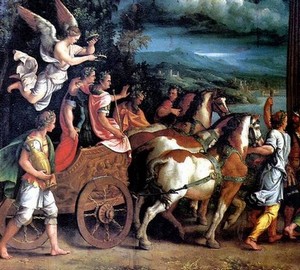 Description of the picture:
The Triumph of Titus and Vespasian – Giulio Romano. Around 1537. Oil on wood. 120×170 The painting of the painter and constructor, a professional student of Raphael, the first of the first representatives of mannerism Giulio Romano (1492 / 1499-1546) tells about the distant times of Roman history. In commemoration of the victory over Judea, the ruler Vespasian and his offspring and heir Titus staged a magnificent triumphal procession, which became the plot of the work. On a chariot drawn by 4 horses, a triumphal arch enters a specially erected for this option Titus and Vespasian, decorated with laurel wreaths of favorites and accompanied by a flying figure of the goddess of victory, Nika. The composition of the picture unfolds on the principle of a frieze. A memory of the endless movement is created, since neither the beginning nor the end of the festive procession is visible. The procession disappears under the arch, the architecture of which was painstakingly painted by the artist, a former court architect at the court of Gonzaga."