Painting Marriage at Caen, Gerard David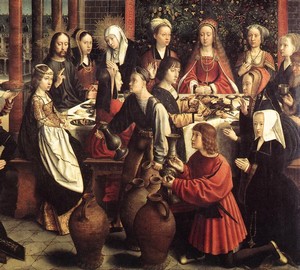 Description of the picture:
Marriage in Caen – Gerard David. Around 1500-1510. Wood, oil. 96×128 The picture of the Flemish Gerard David (circa 1460-1523) is written on a biblical story about the first miracle created by Christ, but all of her characters are depicted in contemporary suits by the artist, appropriate for his country, painstakingly painted details and devices. The heroes of the work have a portrait resemblance to the contemporaries of the painter. The composition also includes the customers of the work, which the master depicted in the form of kneeling figures. Those present at the miraculous transformation of water into wine are quite measured, as if nothing mysterious and unusual is happening. Thus, the action of the Sacred History is transferred through centuries and distances, takes place on the artist's native land."