"A tree with ravens; grave mound near the Baltic Sea and the island of Rügen », Caspar David Friedrich – description of the painting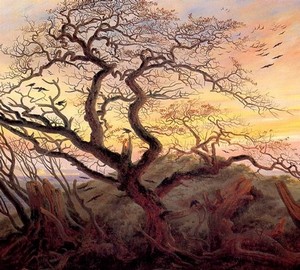 Description of the picture:
Tree with ravens; the grave mound near the Baltic Sea and the Rügen Peninsula in the distance – Caspar David Friedrich. 1822. Oil on canvas. 50 nine x 73
In the landscapes of the German romanticism of Caspar David Friedrich (1774-1840) close to reality, the written nature is always immeasurably more than just an image of one or another landscape. It is perceived by the artist as a beautiful manifestation of the secret universe. Frederick's landscapes reflect a magical interpretation of reality. Nature is the emblem of human life and perdition.
This canvas is a colorful elegy of a master reflecting on the transience of time and the brevity of life. Everything is symbolic here and indicates dying. An old drying tree with broken off clumsy and leafless branches is a symbol of a stopped life; swirling crow – usually flying over carrion; the old burial mound is someone's last refuge on the seashore."