"Portrait of Infanta Carlos", Alonso Sanchez Coelho – description of the painting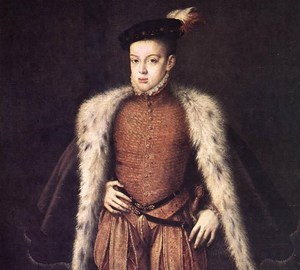 Description of the picture:
Portrait of Infanta Carlos – Alonso Sanchez Coelho. 1555-1559. Canvas, oil. 109×95
Sanchez Coelho is a Spanish painter, Portuguese by birth, the founder of the Spanish state school of portrait, who was influenced by mannerism. With one thousand 500 50 seven Coelho was a court painter of Philip II. Spanish researchers call Coelho "a master of grayish color" – he amazingly reproduced color gradations, had an excellent polytray of grayish and silver tones. One of the greatest finds in Spanish painting is the method he developed for using a neutral grayish background instead of landscape and interior, as adopted in Italian Renaissance portraits.
On a neutral background of the canvas depicts Prince Carlos, the heir to the Spanish throne, the offspring of Philip II and his first wife Manuela of Portugal. Coelho very idealizes the appearance of a prince who was born with severe physical deformities. A raincoat thrown over the camisole, trimmed with lynx fur, and a front pose allowed the artist to mask the model's bodily imperfections."