Charles I, king of England, on the hunt, Anthony van Dyck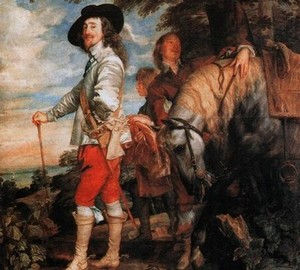 Description of the picture:
Charles I, ruler of Great Britain, on the hunt – Anthony van Dyck. 1635-1638. Canvas, oil. 266×207
The Flemish portrait painter and painter of the religious genre Anthony van Dyck (1599-1641) lived in London from the early 1630s, being a court painter of King Charles I.
In the front portrait, the overlord is depicted standing, focusing on a cane, on the edge of a cliff. Everything on the canvas is subordinate to the stately figure of the king. She clearly stands out against the boundless bright sky. The dark wide-brimmed hat assigns expressiveness to the hero's mind and, contrasting, draws the viewer's eyes to his face, which looks very beautiful.
The portrait was acquired by Louis XIV and entered the Louvre in 1775."