"Before the attack. Under Plevna ", Vereshchagin – description of the painting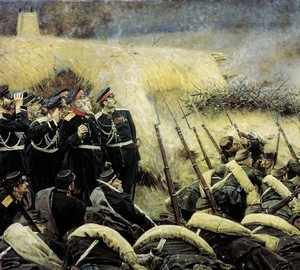 Description of the picture:
Before the attack. Under Plevna – Vasily Vasilyevich Vereshchagin. 1881. Oil on canvas. 183×401 cm
The Balkan series of Vasily Vasilyevich Vereshchagin is the top of the master's work. Being a universally recognized battle artist, Vereshchagin constantly amazed contemporaries with innovative finds, striving for greater realism and sincerity in writing military operations.
The bulk of the work of the cycle was created in France around 1878-1879, but some were written somewhat later. Picture "Before the attack. Under Plevna, one thousand eight hundred eighty-one years saw the light, when the memories of the Russian-Turkish war were not so sharp and painful.
The Balkan series consists of approximately 30 paintings, consisting of several groups, each of which includes several works, united in meaning and idea. A special mention deserves a group of paintings dedicated to the sadly famous assault on Plevna. Vereshchagin's work "Before the attack. Under Plevna "is aware of the last moments before a prominent Russian army to Turkish positions.
The viewer gets a picture: in the foreground is visible a line of Russian fighters. They lie tight, shoulder to shoulder, uniting into a single diagonal line, which makes the line seem endlessly long, extending beyond the horizon. The warriors are ready for battle and await the team to attack.
On the left is a group of people who are members of the command of the Russian army. Among them, an old man with grayish whiskers stands out in particular – most likely it is General Misha Skobelev. His generous face expresses concern and concentration, because the success of the third assault on Plevna depends specifically on his decision.
The color palette of the painting is deliberately poor and monotonous. This technique, together with a panoramic solution, helped the artist to increase the anxiety and unusual tragedy of the events.
In the background, torn, mutilated trees are visible, which seem to be an emblem of what will happen during the attack. After an exhausting struggle and the capture of the Turkish redoubt, the Russian army will be forced to withdraw under the pressure of the enemy, having lost almost thirteen thousand soldiers."