Vegetable and Fruit Saleswoman, Louise Moyon, 1631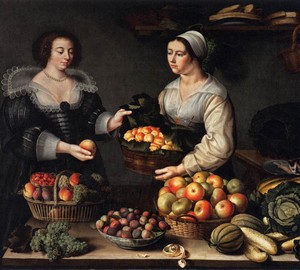 Description of the picture:
The fruit and vegetable seller is Louise Moyon. 1631. Oil on canvas. 120×165 Louise Mouillon (1610-1696), the most recognizable master of the French still life of the 17th century, made works for the highest nobility of France and the British king Charles I. The remarkable painting technique of the artist served as a prerequisite for the fact that during the following centuries her works were confused with canvases of Dutch, Flemish and even German masters. But Muillon still lifes are not as complex as the works of Dutch painters, and more measured. Her compositions with painstakingly painted fruits and vegetables lying on the table, in wicker baskets or porcelain vases, are usually performed from the highest point of view. Louise Muillon infrequently included images of people in her works. Picture "Saleswoman of fruits and vegetables" combines still life and genre scene. The figures of the owner of the fruit shop and her guest are slightly constrained: the artist with more love wrote the gifts of the land offered for sale than their owner and buyer."