Portrait of Catherine II, Dmitry Grigoryevich Levitsky – description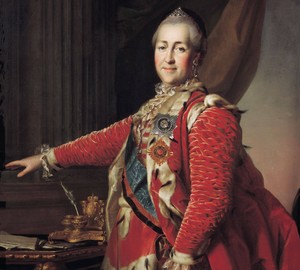 Description of the picture:
Portrait of Catherine II – Dmitry Grigoryevich Levitsky.
Dmitry Grigoryevich Levitsky – a native of an ordinary family of a Ukrainian priest – thanks to genius, talent, and a rare artistic gift, he turned out to be the "creator in the faces" of the era of the 2nd half of the 18th century.
Looking at portraits of Levitsky of rich merchants, eminent architects, broad-minded philosophers, arrogant aristocrats, recognizable writers, beautiful beauties, brave military, charming kids, great kings and empresses – you understand that they are not only morals, faces and biographies, but history and personification that stately era, not the case of the named Catherine.
During her reign, the legislative system is being improved, the financial strength of the country is growing, the Russian Academy is being established, enlightening activities are being strengthened, the army is being strengthened, the Black Sea Fleet is being created, and many other issues that Catherine II intensively delves into and carries out reforms are underway.
In 1782, in the year of the celebration of the twentieth anniversary of the empress's accession to the throne, Levitsky makes "Portrait of Catherine II." Also the reason for writing this portrait was the establishment of the star and the Order of St. Vladimir. Regalia is awarded for military decorations and civilian merits. The first order was entrusted to the empress in September by one thousand seven hundred eighty-two years.
The painter uses the widespread in the 18th century, the so-called, "generational" type of portrait. Catherine in a festive reddish outfit against a background of traditional draperies and columns, a ribbon is thrown over her shoulder, a Vladimir star on her chest. Hair is laid in an ordinary hairstyle, moderate scenery.
The creator seeks to highlight the importance of the ruler as a municipal and military leader, her wisdom and enlightenment, as evidenced by the pen, inkwell and scrolls on the table. But thanks to the soft and good look, a light half-smile on her face, the portrait of Catherine does not look pathos or very festive.
We, the modern descendants of those people, see an ordinary lady alive, the fate of which is destined to become the autocrat of a large country. And she was able to reasonably, well, worthily show herself."