Carrying the Cross, Simone Martini, 1333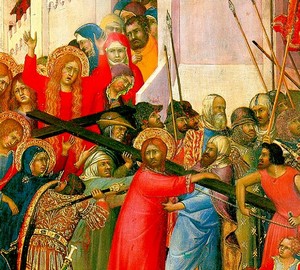 Description of the picture:
Carrying the Cross – Simone Martini. 1333. Wood, tempera. 30×20.5 "Carrying the Cross" – a piece of the altar known as the "Polyptych of Orsini." It is dedicated to the passions of Christ and consists of 6 parts, now stored in various European museum collections. This work of the master of the Siena school Simone Martini (circa 1284-1344) is distinguished by drama and sensual intensity, which the painter brought to the usual plot. On the faces of the characters are clearly read the feelings overwhelming them, which would be unimaginable for the Byzantine style of writing. The gestures and facial expressions of the heroes are pathetic and slightly theatrical, but this reflects the artist's personal attitude to the event of the Holy History depicted by him, his empathy."